It was 2am on a Monday in late October 2018 when Brenton woke up with a start and what he describes as a very strange feeling. "I knew something wasn't right – I felt a vagueness and a sharp pain running through my left arm. I thought I was having a heart attack or stroke. I asked my girlfriend to call an ambulance. It was like nothing I'd ever felt before," Brenton said.
Within about 20 minutes, he was being assessed by the emergency medical team at the hospital nearby.
"I then had a seizure and when I woke up 45 minutes later, I was told they'd run a CT scan,'' Brenton recalls. "It revealed I had a malignant brain tumour in the right side of my skull."
Brenton was sent home from hospital on anti-seizure medication and plans were made for surgery to remove the tumour. He began 'pre-rehab', exercising, eating well and mentally preparing for the high likelihood he'd wake up afterwards with hemiplegia — paralysis of one side of his body.
Brenton's procedure took 12 hours and afterwards, the left side of his body was paralysed 'to the millimetre'.
"I knew there was a high chance, but it was still a shock. Everyone thinks of it like when you've slept on your arm. But it's nothing like that. It's more extreme. I was just happy to be alive though," he said.
The next few days were a struggle. He couldn't speak properly, sit up or walk without the help of two people and mobility aids. He remembers getting his left arm stuck underneath him once because he thought his arm was above his head and not by his side. He couldn't even drink regular water – it had to be thickened because he couldn't swallow as normal.
Staring rehab was an important milestone
Five days after surgery, he was transferred to MetroRehab Hospital to start rehabilitation. Mentally, Brenton says rehab was a significant milestone, another step in the right direction.
Under the care of a rehabilitation specialist and a multidisciplinary team of health professionals – including occupational therapist, physiotherapist, exercise physiologist and speech pathologist – a personalised program was developed for Brenton that was goal-based and meaningful to him. These goals included: being able to prop up in bed, drink 'normal' water, and walk to the bathroom to use the toilet and shower. Ultimately, the aim was to help Brenton return home as soon as possible.
With his devoted partner by his side, Brenton's hard work payed off and the planned three-month stay was reduced to one month. He continued rehab as an outpatient in MetroRehab Hospital's Day Patient Rehabilitation Program where he continued to benefit from occupational therapy, physiotherapy and exercise physiology.
Looking back, Brenton describes this time as mentally and emotionally challenging but with results which were quick and made it all worthwhile.
"I had to learn everything again — simple things you don't normally need to focus on. Once I could sit up in bed, I had to learn to turn using proper techniques, so I didn't injure myself. Then lower my legs, straighten them and shift my weight to stand, centre my weight and bend my knees to sit again.
"I'd never had to rely on anyone to do basic things before and it was extremely frustrating. But being independent came faster than I thought it would, which was great," he said.
Welcome baby news expanded his rehab goals
A few months after surgery, the 33-year-old construction worker received exciting news that provided extra motivation for his recovery.
"We'd had only a brief opportunity to conceive before my cancer treatment began. With all the doom and gloom going on, it was such happy news to learn we had a baby on the way," he said.
Brenton's rehabilitation program was modified to include new goals to help him fully participate in the care of his child. Wanting to be a hands-on father, the MetroRehab Hospital team supported him to learn how to hold the baby, change nappies, dress the baby and more. His rehab team worked closely with the public hospital midwife even organising a lifelike 'baby' doll he could use in rehab and practice with at home so he could gain confidence before the birth.
In November 2018, Brenton proudly introduced six-week old baby Townes to the MetroRehab Hospital team, showing off his ability to safely hold and burp his son.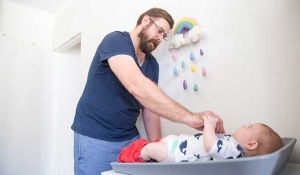 Living his new normal
A year on and back at work part time, Brenton says his very supportive employer has placed him in a new role he can do at his own pace. He said returning to work allowed him to practice things he'd worked on in rehab, particularly multi-tasking – for example walking and talking at the same time.
Today, people who don't know him wouldn't know he's only just learned to walk again. He's also happy to be driving again and most importantly, to be able to care for Townes on his own.
"I can lift Townes in and out of the pram with one arm. He's not getting any lighter, but it feels like he knows what's going on – he grips me harder now, almost like he's compensating for growing. He's a good kid," Brenton says.
Brenton is looking forward to his chemotherapy coming to an end in March and having more energy to play with his son.
Advice for others
Brenton says staying positive and putting the effort in makes such a difference for anyone during rehab.
"The more you put in, the more you'll get out. You've got to establish for yourself what you want to achieve. You can get gloomy on Google or just get on with it."
Brenton is now in the public system and he credits the good handover by the MetroRehab Hospital team for his smooth transition. He's grateful to everyone at MetroRehab Hospital who has played a part in his recovery.
"There was a lot of positivity and a lot of laughs. A lot of people there I would happily choose to mingle with. Whoever is doing hiring at MetroRehab Hospital is doing their job well," Brenton said.
Brenton encourages people to support the Chris O'Brien Lifehouse research for brain cancer, as research is underfunded, and Brenton sees this as a very worthwhile cause.